I'm feeling a bit less panicky than I was at the time of my last post, when my big success story, waterless washing machine maker Xeros (XSG), appeared to be souring.
I cut my stake in half at 174p, then saw the shares fall further to 160p before mounting something of a recovery to 182p. Maybe I was wrong to sell out so quickly: perhaps, as Mark Moran suggested, I 'don't have the stomach' for risky Alternative Investment Market shares.
But I'm broadly happy with the decision. I followed the same strategy as I did with my other big winner, Hutchison China Meditech (HCM), and while that continued to rise after I had taken some profits, I don't count that as one of my big investment mistakes.
No: my mistake has been not to see troubles ahead when I've been sitting on gains, such as with Standard Chartered (STAN) and First Group (FGP), only for the shares to then tumble. That's made me quicker to bank those rare bumper profits when they do arise.
JPMorgan Russian Securities (JRS) has cost me even more money. But despite being the biggest loser in my portfolio, I haven't yet felt the urge to ditch it. In fact, when Citywire asked me to provide my investment pick for 2015, it was Oleg Biryulyov's investment trust I turned to.
I said then that my bet on an ultra-cheap Russian market (trading on a price-earnings ratio of less than four at the time) was based on two predictions: that the oil price would mount some recovery this year and Russian president Vladimir Putin would step back from an escalation of the conflict with the Ukraine.
Both predictions are on course so far, and the trust is up 18.2%  this year. But I'm not counting my chickens yet, and I've still got a long way to go before I make up my losses.
Here's what my portfolio looks like at the moment. If you have any trouble viewing it, try this link.
My portfolio: Click to enlarge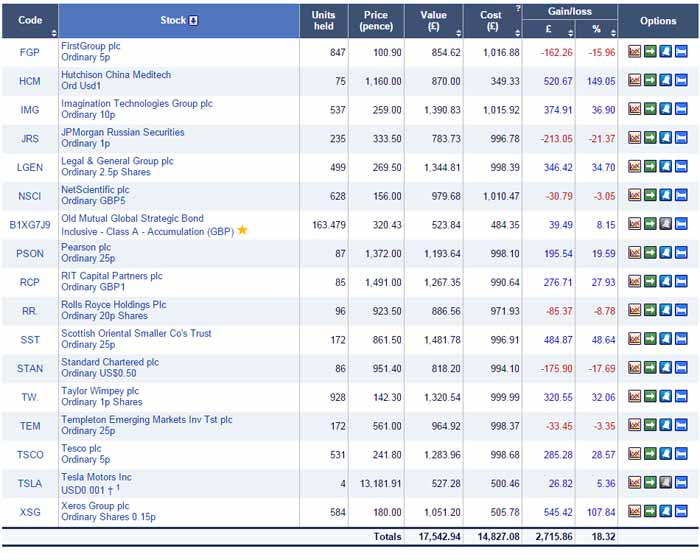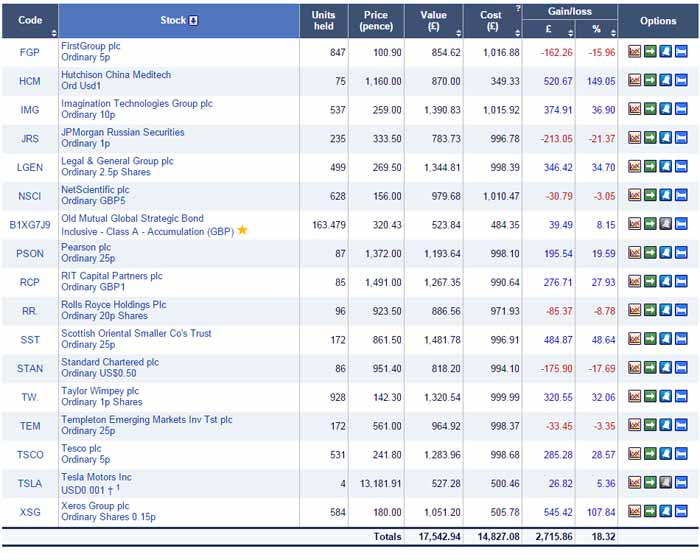 The most pressing issue is what to do with the £1,000 I've got sitting in cash from my Xeros sale. One stock I've been monitoring recently is Utilitywise (UTW). Yes, some of this is down to the fact its a small growth stock, which has been my happiest hunting ground.
But while Xeros and Hutchison China Meditech have been my biggest successes, I still haven't quite got used to small stock growth investing - all those big share price moves out-of-nowhere, seemingly on no news, and little but ephemeral 'potential' and 'prospects' to hang on to, rather than solid profits, when things turn sour.
Utilitywise, which helps companies manage their energy use, doesn't seem to be like that. For one, it turns a profit, and one that has been steadily growing: £11 million in 2014, up from £6 million in 2013 and £4 million the year before. It even has a dividend, and a yield of 2%.
Also, it doesn't trade on an insanely high price-earnings ratio: Utilitywise is trading on a ratio of 10.5%. Xeros, by contrast, doesn't have one as it isn't turning a profit yet, while Hutchison China Meditech, admittedly operating in a very different area, trades on 129x!
And it has the backing of people I like, or should like if I wasn't such a dumb investor: Neil Woodford (don't worry, I won't bang on about him again), Citywire AAA-rated Ken Hsia (who is, apparently, a 'rising star' and manages the Investec UK Smaller Companies fund) and AAA-rated Daniel Hanbury, manager of the River and Mercantile UK Equity Unconstrained fund.
Looking through RNS filings tells me Woodford has been topping up his stake, as has River and Mercantile: this might be Hanbury, or his colleague Philip Rodrigs, who runs the UK Equity Small Companies fund. So too have some of the Utilitywise's bosses, which is a good sign.
They are probably thinking, as I am, that the shares are cheap. They are down 40% since a peak 367p in April last year, although still well up on the 60p price the company floated at in 2012.
Admittedly, its latest update showed its 'revenue pipeline' had declined slightly over the last six months as the company focused on extending existing contracts over winning new customers. But Utilitywise says it is going to refocus on getting new clients signed up in the next six months. The outlook looks good, I think, so I'm investing.